Advance tickets available: HERE.
(The ticketers are calling the show: MAGIC AFTER DARK VOL 8. Don't worry it is the correct show on 10/31/19 at the Turning Point.)
Halloween Magic Revue
This is going to be a fun night of magic, comedy, gore, and fright! We expect to have a review type show with 6-10 performers doing short shows in keeping with the theme and celebrating the holiday.
A full list of the performers will be announced closer to the date of the show as their holiday schedules permit.
Devlin
Devlin's performances can be traced to his South American roots, offering magic with a Latin flair. Weaving his mysteries with the air and confidence of a matador. Among his many awards, he received the Parent Assembly of the Society of American magicians highest honor, "Magician of the Year." He has appeared (and disappeared!) on stages from Hollywood's famed Magic Castle, to headlining in four of his own shows at Bally's, Claridge and Sands Casinos in Atlantic City and most recently at the Wyndham Crystal Palace Casino in Nassau, Bahamas. He landed a feature appearance playing himself on ABC's daytime drama "All My Children" leading to national exposure.
He is the star attraction on the Holland America Cruise Line, and his many performances onboard luxury ocean liners like the Queen Elizabeth II have taken him to all seven continents and around the seven seas. Devlin's attention to all details of his performance combine to give indelible impressions of flawless movement, fabulous music, and a highly professional interpretation of magic.
Robert Jägerhorn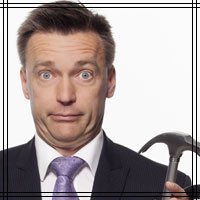 Robert Jägerhorn will be joining us from Finland. He is a full-time professional magician with more than 1000 corporate clients and has spent the past two decades performing throughout the world with his unique brand of magic.
His popular one-man show "Waiting for Hitchcock" has been presented in London, Stockholm, Edinburgh, Warsaw and New York.
Robert is also the recipient of numerous awards including The Magician of the Year (awarded by The Finnish Magic Circle) and Entertainer of the Year (awarded by The Finnish Artist Association) and he has a Master's degree in Theatre and Drama from The Theatre Academy of Finland.
Thomas Solomon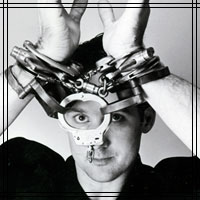 Thomas Solomon is an award-winning magician and escape artist who is known as "The World's Greatest Escape Artist." He is known for his handcuff escape from a twenty pound ball and chain at the bottom of the Hudson River; his escape after being chained to a weighted chair in the East River; underwater escapes in the Mississippi, Long Island Sound, the Potomac, Boston Harbor, Lake Michigan, et. al. He has freed himself from thousands of pairs of handcuffs including those that held Lewis Payne, a Lincoln assassination conspirator and famed outlaw, Billy The Kid.
His television appearances include his network television special "Thomas Solomon, The Escape Artist," "The Secret World of Magic and Magicians," The History of Magic," "No Jail Can Hold Me" and many others. He is the only escape artist to have entertained President Ronald Reagan and President George HW Bush at The White House where he escaped the handcuffs of the Uniformed Secret Service.
Thomas has performed 19 jailbreaks in his career and is the only escape artist to escape from Al Capone's jail cell in Philadelphia. His love of magic and escape artistry knows no bounds and he continues to present cutting edge artistic work that has his audiences standing and cheering.
Marc Salem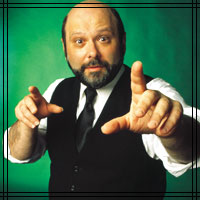 Marc Salem is one of the most sought-after entertainers and lecturers in the world. With sophisticated humor and dramatic impact, he will lead you through the incredible potentials and amazing possibilities of the mind. He can identify people and objects hidden by time and space. He can guide your thoughts and can even feel your emotions.
Marc has performed around the world, astounding and entertaining millions. His show Mind Games concluded two extended runs on Broadway to both critical and popular acclaim and he completed five sell-out seasons in London.
He has been on hundreds of television shows including two network specials of his own. He is the only mystery performer ever profiled on 60 Minutes with Mike Wallace. His book The Six Keys to Unlock and Empower Your Mind was a best seller, and his audience continues to grow. He is an inventor, critic, psychologist, entertainer, analyst, but cannot dance.
Bob Delaney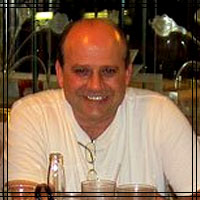 Bob Delaney is a popular New Jersey magician who specializes in family entertainment. He started performing as a kid while standing on a garbage can for the neighborhood children and later studied with pioneering magician Fred Elwood who taught him his entire act. Bob continues the tradition of presenting that very special show as a tribute to his mentor. It is a unique and magical performance using the cutest animals you will ever see.
Bob was the resident magician at the Resorts International Casino in Atlantic City where he regularly provided entertainment for the high rollers. For more than ten years now Bob has been a regular feature at New Jersey restaurants and now, with more than twenty-five years of performing experience, Bob delivers magical moments that last a lifetime.
Bob Yorburg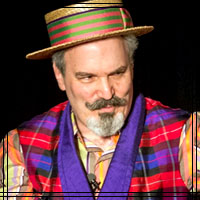 Bob Yorburg has been a long time professional magician who is the only person to perform illusions on the field of both Yankee Stadium and Shea Stadium between innings. He was the very first "Magic Burger King," he starred in the very first magic instructional video for the public, he has appeared in many television commercials and on TV shows, and is known for his traveling flea circus.
His current performing character is "Professor Phineas Feelgood" who performs fast-paced magic and comedy in the style made popular in the early days of Coney Island.
Bill Schmeelk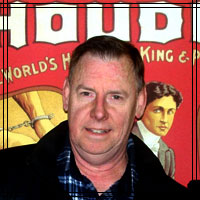 Bill Schmeelk is best known in the magic community as the illusion builder and creator for Doug Henning, Blackstone, David Copperfield, Criss Angel and just about every magician you ever heard of. He has also created countless illusions for Broadway and television shows. His busy schedule keeps him from performing his live shows, but he does sporadically make an appearance for special events.
Ben Robinson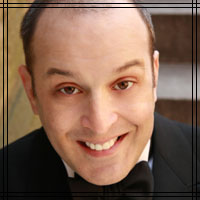 Ben Robinson came to magic at age seven and has since toured twenty-two counties entertaining an approximate three million people. At a command performance in Italy in 2015 he received a standing ovation from an international audience which spoke twelve different languages. He has appeared in seven original one-man shows and has written fourteen books.
After his first one man show, produced by Broadway and avant-garde legend Lyn Austin and her Music-Theater Group, The Hartford Courant head drama critic Malcolm Johnson wrote, Ben Robinson's silent, surreal illusions are must see entertainment. The New York Times wrote about his show at the Museum of the Moving Image, Ben Robinson is an internationally acclaimed master magician. He delighted the audience…
In 2017 Ben Robinson completed his WAM trilogy (Wonder, Artfulness, Mindfulness) and toured seventeen cities across North America, eliciting standing ovations at the Buster Keaton Centennial held in Muskegon MI, and in Victoria, BC.
Harvey Leeds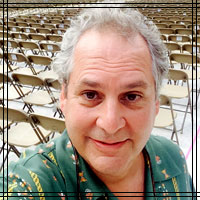 Harvey Leeds, retired from Sony Music & Entertainment, after 35 years as Senior VP of Radio Promotion and Marketing and then Senior VP of Artist Development. Leeds was responsible for the success of numerous careers including Boston, Cyndi Lauper, Gloria Estefan, Culture Club, Pearl Jam, Incubus, Rage Against the Machine to name a few. He is presently the Owner of Headquarters, a management and consulting firm within Live Nation, Inc. and manages Southside Johnny and the Asbury Jukes, Marky Ramone, Glint and the The Revel among others.
He has also had a lifelong passion for magic and comedy and will be making his on stage debut as a magician at Magic After Dark.
Meir Yedid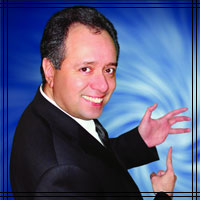 Meir Yedid has given a totally new interpretation to the phrase "sleight of hand." Disregarding the conventional accessories of the magician, Meir's nimble hands provide the setting and backdrop for a unique, visual and funny show.
His numerous awards include: Magician of The Year by SAMPA, he was the first person to ever win the Society of American Magicians Close-Up Magic Championship more than once, he was the Guest of Honor at the prestigious Obie's 4F Convention and most recently received a Christopher Foundation award for his contributions to magic. His television appearances include: Comedy Tonight, The Paul Daniels Show, Knoff Hoff Show, Mind Over Matter, Best Trick Ever and dozens of others that include some of the highest rated television shows in Japan, Germany, Australia and England.
His live shows and seminars have literally been seen all over the world in both the largest and smallest nightclubs, hotels and theaters and of course Las Vegas Casinos and even an Off-Broadway show.
---
Date & Time:
Thursday October 31, 2019 at 8pm (doors open at 7pm)
Cost:
$25 per person (NO food or drink minimum)
Buy:
Advance tickets available: HERE.
(The ticketers are calling the show: MAGIC AFTER DARK VOL 8. Don't worry it is the correct show on 10/31/19 at the Turning Point.)
Place:
The Turning Point Café
468 Piermont Ave
Piermont, NY 10968
(845) 359-1089
NOTE: Show and cast are subject to change. You never know when one of our stars gets a sitcom, TV special or a million-dollar show. In those cases, we will find a suitable replacement.
Please follow and like us: