Our February 15 show will feature some of the busiest professional magicians in the East Coast, who are rarely seen in this kind of intimate setting or in shows that are open to the public. Opening will be Ben Robinson who is a world-class performer and author. He will be followed by corporate entertainer and speaker Denny Corby. Closing the show will be David Garrity who for the past 20+ seasons has presented his illusion show at Six Flags New England. Your host will be Meir Yedid.
---
Ben Robinson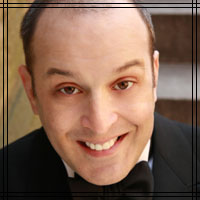 Ben Robinson came to magic at age seven and has since toured twenty-two counties entertaining an approximate three million people. At a command performance in Italy in 2015 he received a standing ovation from an international audience which spoke twelve different languages. He has appeared in seven original one-man shows and has written fourteen books.
After his first one man show, produced by Broadway and avant-garde legend Lyn Austin and her Music-Theater Group, The Hartford Courant head drama critic Malcolm Johnson wrote, Ben Robinson's silent, surreal illusions are must see entertainment. The New York Times wrote about his show at the Museum of the Moving Image, Ben Robinson is an internationally acclaimed master magician. He delighted the audience…
In 2017 Ben Robinson completed his WAM trilogy (Wonder, Artfulness, Mindfulness) and toured seventeen cities across North America, eliciting standing ovations at the Buster Keaton Centennial held in Muskegon MI, and in Victoria, BC.
Denny Corby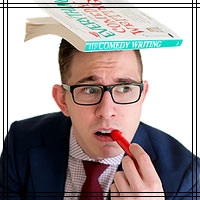 Denny Corby is a wildly successful magician, entertainer and keynote speaker. He performs regularly for a slew of corporate clients like Comcast, Tyson Foods, Berkshire Hathaway, BMW, MetLife, Lexus, and many others
Through appearances on major cable networks like Fox and NBC, Denny has graced television screens across the country. He's also put out an instructional DVD, Magic Tricks Now, showing people how to use some of his favorite tricks to impress their friends, family, coworkers and even strangers.
He is best described as a warm-hearted goofball who lives to make people laugh and see them smile. You'll never find him any happier than when he's cracking jokes and having fun with friends, family, and even complete strangers.
David Garrity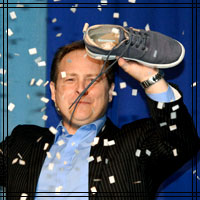 Illusionist David Garrity has been a star attraction at Six Flags New England for many years.
David performs more than 400 shows a year along the East Coast and internationally. His shows combine magic with music, pantomime, situational comedy and audience participation to create memorable evenings.
David regularly appears in theaters, theme parks, colleges, fairs, corporate functions and countless other events. He recently appeared at the Tropicana in Atlantic City, Center for Performing Arts at Rhinebeck, Mohegan Sun in Connecticut, National Theater in DC, and a tour of the exclusive resorts along the Riviera Maya in Mexico. As a magic consultant he has created custom events for Six Flags Entertainment, McDonald's Corporation and Viacom.
Meir Yedid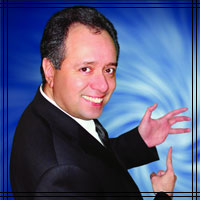 Meir Yedid has given a totally new interpretation to the phrase "sleight of hand." Disregarding the conventional accessories of the magician, Meir's nimble hands provide the setting and backdrop for a unique, visual and funny show.
His numerous awards include: Magician of The Year by SAMPA, he was the first person to ever win the Society of American Magicians Close-Up Magic Championship more than once, he was the Guest of Honor at the prestigious Obie's 4F Convention and most recently received a Christopher Foundation award for his contributions to magic. His television appearances include: Comedy Tonight (FOX), The Paul Daniels Show (BBC), Knoff Hoff Show (ZDFTV), Mind Over Matter (ACTV), Best Trick Ever (ABC2 [2 episodes]) and dozens of others that include some of the highest rated television shows in Japan, Germany, Australia and England.
His live shows and seminars have literally been seen all over the world in both the largest and smallest nightclubs, hotels and theaters and of course Las Vegas Casinos and even an Off-Broadway show.
---
Date & Time:
Thursday February 15, 2018 at 8pm (doors open at 7pm)
Cost:
$25 per person (NO food or drink minimum)
Place:
The Turning Point Café
468 Piermont Ave
Piermont, NY 10968
(845) 359-1089
*NOTE: Show and cast are subject to change. You never know when one of our stars gets a sitcom, TV special or a million-dollar show. In those cases, we will find a suitable replacement.
Please follow and like us: